Thursday, August 17, 2017 / by Bella I.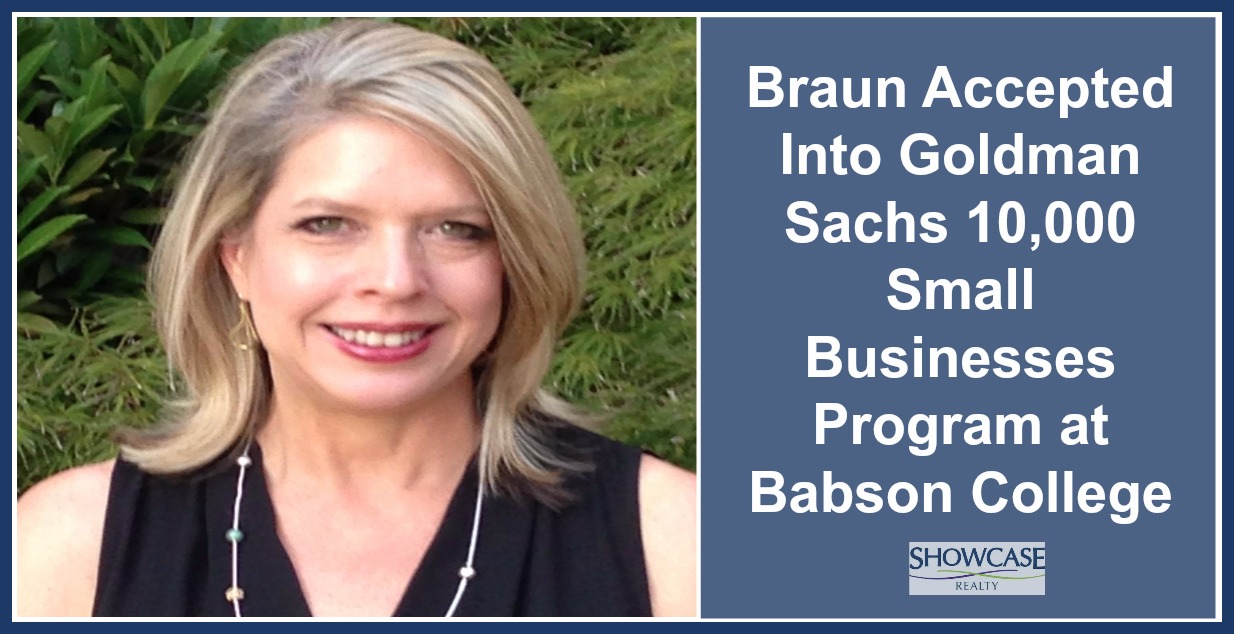 Nancy Braun, Founder and Broker-In-Charge of Showcase Realty has been accepted as a scholar in the Goldman Sachs 10,000 Small Businesses program (#10KSB) by prestigious business school Babson College in Wellesley, Massachusetts.
Launched in 2009, the #10KSB program is a national curriculum created to empower small business owners with opportunities. It is geared towards promoting the value of job creation and economic stimulation through empowering small business owners with the tools they need to build stronger businesses.
"Babson College's acceptance of my application to attend the esteemed Goldman Sachs 10,000 Small Businesses program, is an honor," says Braun. "I thrive through education and cannot wait to enhance my participation in the stimulation and growth of the North Carolina and South Carolina real estate markets through the training I'm about to receive."
Based on 10,000 Small Business' evaluation, scholars of the Program have seen business growth within the first six months, post-graduation, through using its methods and principles. A thorough curriculum equips small business owners to lead their business with success, access capital and capitalize networks.
Braun will join hundreds of business owners representing multiple markets across the United States, its territories, and the United Kingdom. With over 850 graduates, the program has helped create over $174M in revenue, as well as over 3000 jobs.
"These higher-level skills sets that I will bring back to my real estate agent team will prove invaluable in assisting them further their business goals," says Braun.
Babson College has participated in the #10KSB program since 2010 and boasts 250 trained faculty and staff members teaching the program at the College as well as at several community colleges throughout the United States.
The #10KSB program is a rigorous 11-week curriculum covering technology, growth, skillsets, financials, building out opportunities, leadership, growth plans, people management and relationships, negotiations, and overall implementation.
About Babson College
Babson College is the educator, convener, and thought leader for Entrepreneurship of All Kinds®. The to p -ranked college for entrepreneurship education, Babson is a dynamic living and learning laboratory where students, faculty, and staff work together to address the real-world problems of business and society. We prepare the entrepreneurial leaders our world needs most: those with strong functional knowledge and the skills and vision to navigate change, accommodate ambiguity, surmount complexity, and motivate teams in a common purpose to make a difference in the world, and have an impact on organizations of all sizes and types. As we have for nearly a half-century, Babson continues to advance Entrepreneurial Thought & Action® as the most positive force on the planet for generating sustainable economic and social value.
About Nancy Braun and Showcase Realty
Nancy is an award winning Broker-In-Charge / Owner of Showcase Realty LLC known for innovative and technologically-savvy marketing. Serving the NC and SC real estate markets, Showcase Realty's offices are in Charlotte, NC, Gastonia, NC and Rock Hill, SC. Nancy and Showcase Realty LLC are nationally recognized industry leaders consistently ranking on America's Best Real Estate Agents and RealTrends Top 1% in the country, as recognized by the Wall Street Journal. Showcase Realty is committed to selling homes and surpassing customer expectations with professional service, personally delivered. For more information visit www.Showcaserealty.net.
---