Tuesday, July 18, 2017 / by Marketing Team
Buy Your Charlotte Home Instead of Renting
Owning a Charlotte home has plenty of advantages, including the impact to your finances. When you live in Charlotte, NC, you have access to everything you need whatever your lifestyle entails. Make it that much more meaningful by buying a Charlotte home so you can reap these benefits:


Paying a mortgage is cheaper than renting. In the first quarter of this year, the trend for home ownership was higher than renting for the first time since 2006. This reversal from renting to owning has continued to benefit the housing market in 2017. 854,000 homebuyers from across the country saw just how affordable it was for a 30-year fixed rate mortgage over renting, and 42% of them were first-time buyers, making the national homeownership rate climb to 63.6%! Currently, the interest rate is low at an average of 4.25%. For renting to be the more affordable option, the interest rate would have to reach 9.1% – which hasn't been the case since January 1995 when it was 9.15%.


Saving by default. When you have a mortgage for which you pay monthly, experts consider that to be a type of savings account because ultimately you have to pay it – making it necessary to cut down expenses in other areas to make it affordable. When you do that, you not only live within your means, but over time your payments build up equity in your Charlotte home, which you can draw upon when you need it later for things like remodeling, repairs, or even to help pay for college tuition for your children or grandchildren.


Maximize your tax return. Homeowners have the ability to live essentially rent-free, unlike landlords who must claim rent from renters are income, and renters, who may not necessarily be able to deduct what they pay in rent. In addition, itemizing tax deductions on your Charlotte home also has the potential to reduce your taxable income and save you money. The types of deductions you can make include a mortgage interest deduction (any interest paid on your mortgage by year-end), annual property taxes, and claiming an exclusion with capital gains – if certain conditions are met. Charlotte home sellers can achieve a tax break, despite having to pay capital gains taxes off of the profits they earned through the sale of their home, if they qualify to exclude taxable income (up to $500,000 if filing jointly, otherwise up to $250,000). They have to have lived in the home as their main residence in the last 2 out of 5 years, and haven't already claimed the capital gains exclusion in the last 2 years. The money you save as a taxpaying homeowner through itemizing will maximize your return, so that you can sell your existing home and afford to buy or save up for another Charlotte home like 5% of Americans already used their tax returns for this year. Of course, you could spend that extra money to take a family vacation like 11% did, or join the 38% of taxpayers who used theirs to pay off debts, so you can qualify for a home loan, or even put your money in savings (for a new home or other later purchase) like 48% chose instead.


Experts say homes will continue appreciating. The projected rate for home prices to appreciate is 3.22% annually over the next five years, growing to 17.3% collectively, as reported by Pulsenomics in their
Home Price Expectation Survey
.
Are you looking for a Charlotte home for sale? Call Showcase Realty's team of experts to help you find the right fit! Get started today by contacting us at 704-997-3794 or send us a
message here
!
Check out this infographic comparing national renting vs buying statistics. It will give you a snapshot of the benefits of buying your Charlotte home and building equity rather than spending that same money on rent.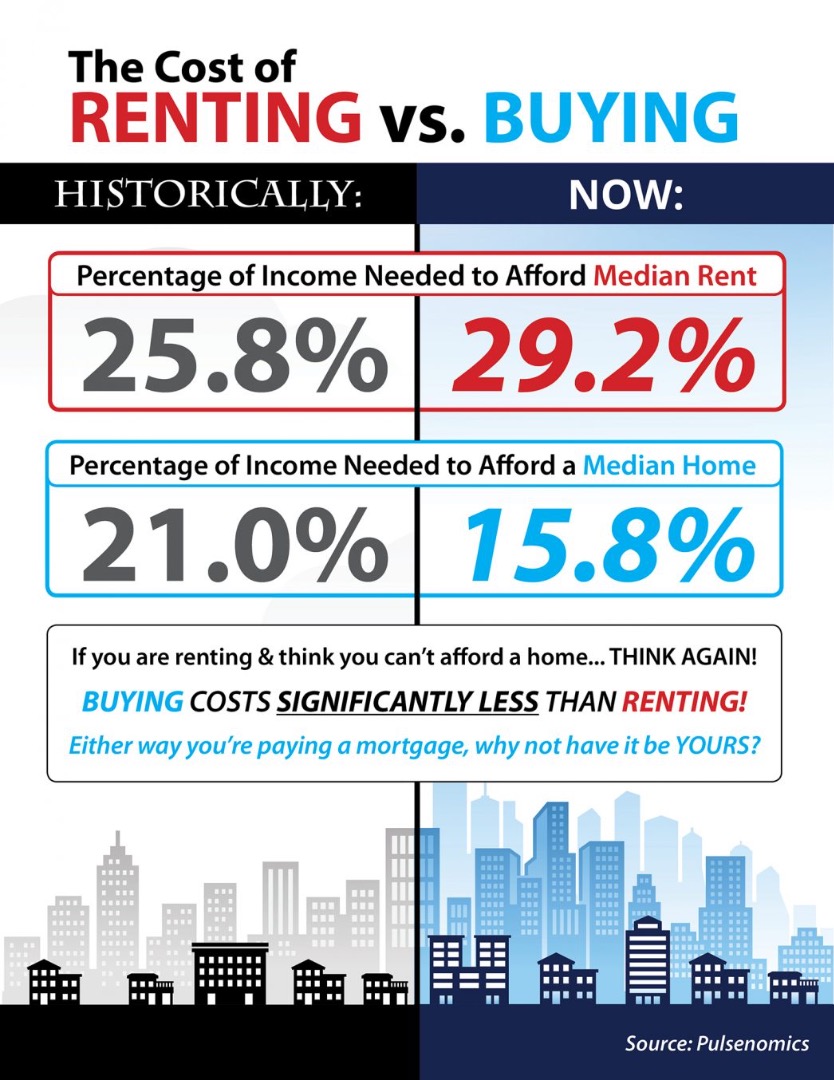 (Source: Pulsenomics via Keeping Current Matters)
---